PETA planning to put 'tribute' billboard at site of Iowa truck crash that killed 2,500 chickens
PETA is hoping highway motorists will think twice about supporting slaughterhouses after seeing their upcoming billboard.
The animal rights group plans to erect a "tribute" billboard at the site of a truck crash in West Union, Iowa, which resulted in the deaths of about 2,500 chickens last week.
PETA CONDEMNS 'EMOTIONAL SUPPORT CHICKEN' MEAL
"This crash left thousands of birds dead or mangled on the highway, and those who survived will presumably end up under the slaughterhouse knife," said Tracy Reiman, PETA's executive vice president, in a news release.
"PETA's billboard will remind people that the best way to prevent tragedies like this is to help keep smart, sensitive chickens off the road in the first place by going vegan."
The billboard, planned for a stretch of Highway 18, will feature the face of a chicken alongside a message reading, "I'm ME, Not MEAT," and "See the Individual. Go Vegan."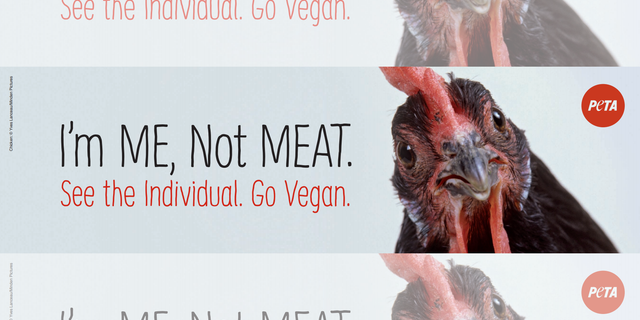 CDC WARNS FOLKS NOT TO 'KISS OR SNUGGLE' CHICKENS
The truck crash, which occurred in mid-May, was said to have occurred after the driver, 44, crashed into a ditch. Half of the roughly 5,000 chickens that survived the crash were placed on another truck, while the driver and a passenger were treated for minor injuries, the Associated Press reported at the time.
PETA has also erected several similar billboards with the phrase "I'm ME, Not MEAT," one of which appeared in Baltimore in August, encouraging residents to refrain from eating crab.
Last year, PETA had also urged Maine officials to build a large gravestone to commemorate the spot where a truck carrying thousands of lobsters crashed on a highway in Brunswick. PETA's request was ultimately denied.
FOLLOW US ON FACEBOOK FOR MORE FOX LIFESTYLE NEWS
Ryan Gaydos contributed to this report.