No Longer Beefing! Blac Chyna and Mom Declare Love for Each Other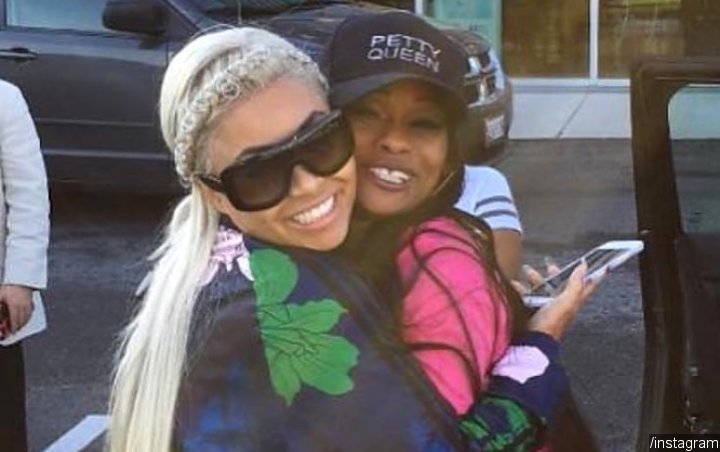 The Lashed Bar owner has also invited her mom, Tokyo Toni, to star on her upcoming show 'Zeus,' to which the latter has agreed as saying, 'just ring me, you have my number, I love you, kiss.'
AceShowbiz –
Blac Chyna and her mom, Tokyo Toni, might not have the best mother-daughter relationship, but they are working their hardest to repair it. Making the end of their feud official, the former "Rob & Chyna" star and the 47-year-old woman declared love for each other on Instagram.
This started after Chyna started following Toni on the photo-sharing platform. The latter posted a screenshot of that and wrote in the caption, "I love you Angela [Chyna's real name]," to which the Lashed Bar owner responded, "I love you." She added a lot of red heart emojis in the comment.
Chyna and Toni were feuding for quite a long time, with the former posting videos of her calling out her daughter for time to time. In one scathing video, she even called the video vixen a "mistake" and stated that her birth wasn't planned. "F**k birthing you, b***h. That was a mistake, just happened to come into play," she said, before adding, "You was a statutory rape baby."
However, things were looking good for them again as Chyna told Wendy Williams during her appearance on the latter's talk show that she hoped her mother would accept her invitation to be on her upcoming show "Zeus". "Family is family," she said of Toni, before adding that her mother thinking she had control over the media "put a strain" on their relationship.
Chyna also gushed over her mother in a radio interview, saying, "She's always gonna be my mom. I love her to death. But I felt like another reason why I wanted to start being more verbal was because due to the media and different things, she feels as though I have control over that. So, when I don't speak up for her, it becomes a problem."
Toni herself has accepted Chyna's invitation to be on her upcoming show, saying in a video, "Listen I heard you on Wendy Williams today and yes I would love to join you on your new docu-series on 'Zeus', just ring me, you have my number, I love you, kiss."