Lorde Apologizes After Accused of Joking About Whitney Houston's Death With Bathtub Photo

Lorde has found herself on the receiving end of backlash after posting on Instagram a photo of a bathtub alongside a Whitney Houston quote. She was accused of disrespecting the late singer, who was found dead in a hotel bathtub in 2012.

The 21-year-old New Zealand-born singer took to her social media account on Thursday, April 5 to share the picture of the bathtub filled with water. She wrote in the caption, "And iiii will always love you," which is part of the lyrics of Houston's 1992 hit cover of Dolly Parton's song "I Will Always Love You".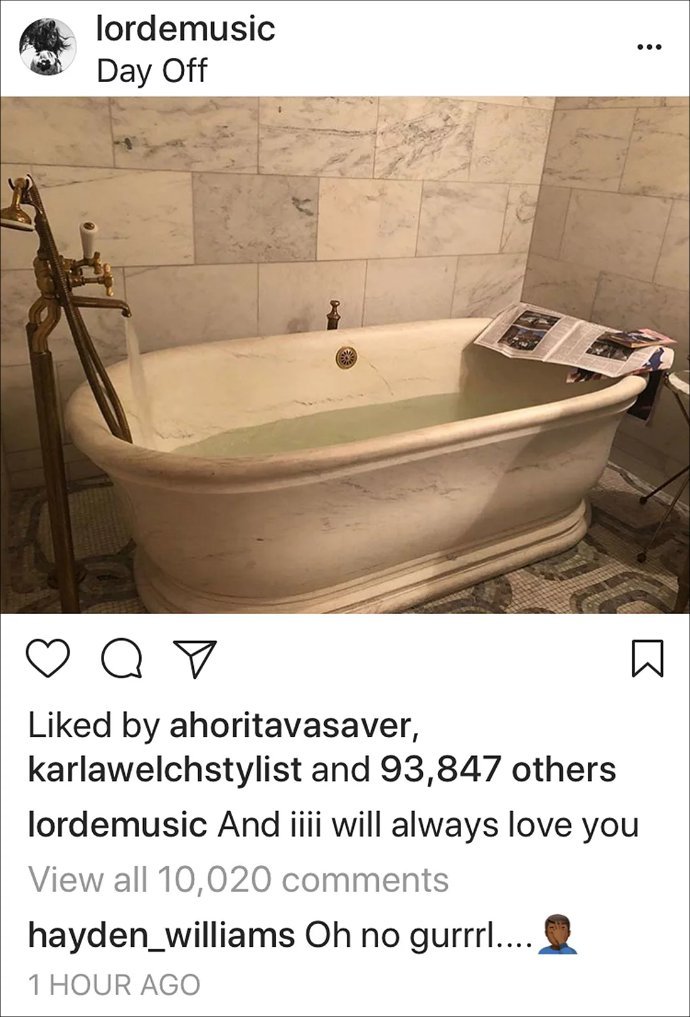 Lorde shares a bathtub photo along with Houston quote.

Her followers then took to the comment section to express their rage and disbelief over the tone-deaf post. Someone told her, "You bout to ruin yo career sis," while others wrote, "DELETE THIS NOW," "Sis delete this," and "This is disgusting."

Some others, however, remained positive, thinking and believed that Lorde hadn't meant to share the photo along with a Houston reference. "there's no way she meant to do this," one fan defended her. Another added, "I hope this is just the result of a hack."

Realizing her mistake, Lorde quickly took down the photo and apologized for it. "Extremely extremely poorly chosen quote," she wrote on Instagram Stories. "I'm so sorry for offending anyone – I hadn't even put this together I was just excited to take a bath. I'm an idiot. Love Whitney forever and ever. Sorry again." She added in another post, "IT IS NOT MY FKN DAY TODAY."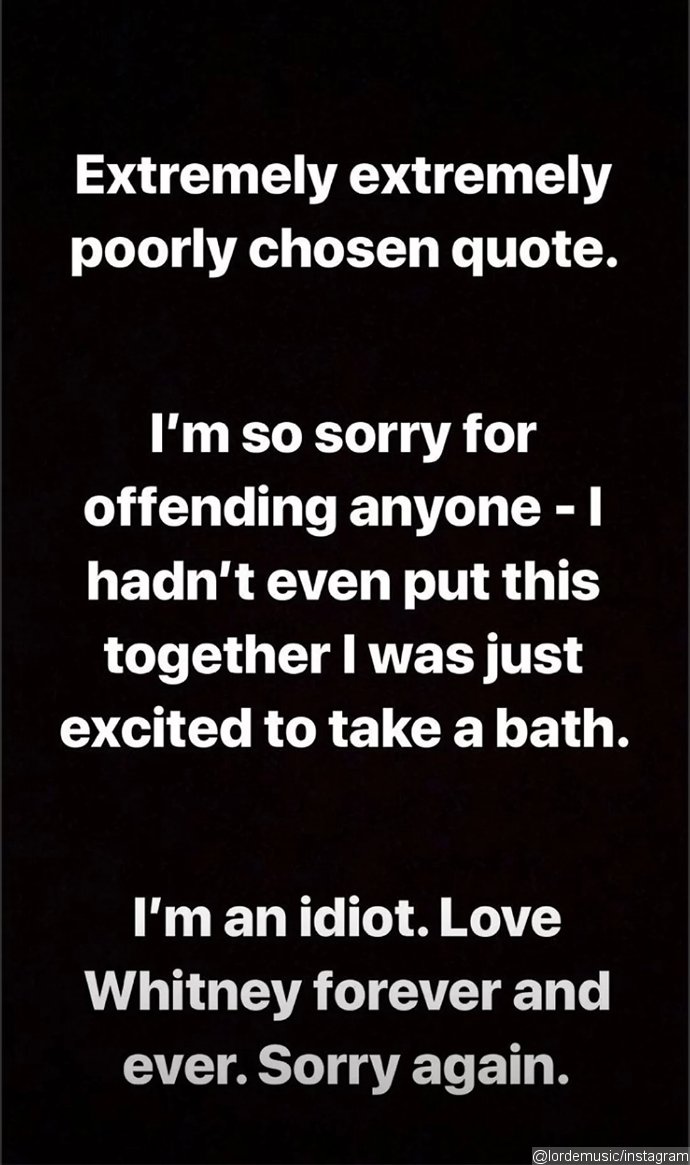 Lorde apologizes for posting bathtub picture.

After she apologized, many came to her defense. One wrote, "don't think there's anything sadder than lorde being excited to take a bath on her day off, just to have the entire internet come after her for a short period of time because she used the wrong quote for the wrong occasion."

Houston died on February 11, 2012 due to accidental drowning as a result of heart disease and longtime cocaine abuse in a bathtub of the Beverly Hilton Hotel in Los Angeles. She was 48.