Derek Hough Treats Girlfriend to 'A Star Is Born' Song Cover in the Kitchen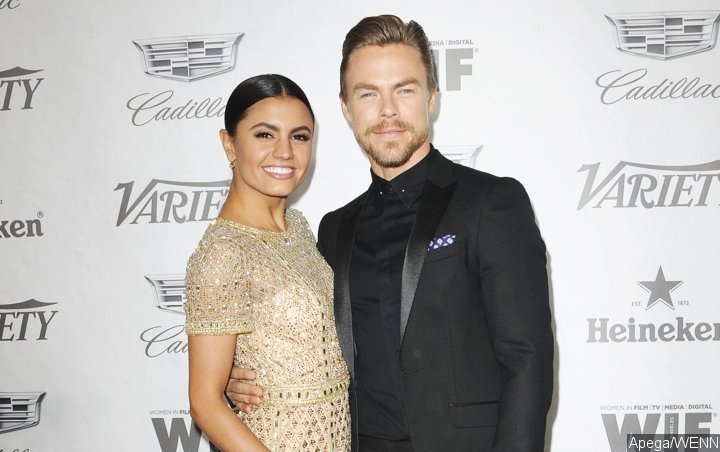 The 'World of Dance' judge shares a video of himself serenading Hayley Erbert while she is preparing a meal on his Instagram account.
AceShowbiz –
Derek Hough proves that he is a romantic man. The 33-year-old professional ballroom dancer shares with the world how charming he can be in front of his girlfriend, Harley Erbert, by posting a video of him sweetly serenading her on Instagram on Monday, October 15.
In a post captioned with "Kitchen Serenade", the "World of Dance" judge did a cover of Bradley Cooper's "Shallow" song from "A Star Is Born". Dressed casually in dark shorts and a figure-hugging shirt, he sat atop their kitchen counter and strummed his guitar while his girlfriend was preparing for their dinner. The lovebirds shared occasional glances and smiles throughout the impromptu performance.
The acoustic cover of "Shallow" wasn't Derek's first time showing interest in Lady GaGa's debut movie. A couple of days earlier, the six-time champion on "Dancing with the Stars" posted a still of Cooper and GaGa on his social media account. Captioning the photo, he simply wrote, "This Film."
This also wasn't the first time Derek showed off his romantic side to his dancer girlfriend. Back on October 11, the older brother of dancer/singer Julianne Hough posted a black-and-white photo of him and Harley as a tribute to her birthday.
"You fill my heart with so much joy," he wrote. "I love our crazy adventures together or just sitting on the couch with our bodies entangled watching a movie. I find myself smiling at you in random moments. Fully feeling the effect you've made in my life. This surprising journey fills my heart with so much gratitude. Today I celebrate and am truly thankful you were born."
Though famed for his dancing skills, Derek has singing skills under his belt too. The "Make Your Move 3D" actor released his own single in 2017 titled "Hold On". He had also joined the cast of NBC's 2016 live musical, "Hairspray Live!".