Billy Porter Makes Exceptional Entrance, Harry Styles Goes Sheer at 2019 Met Gala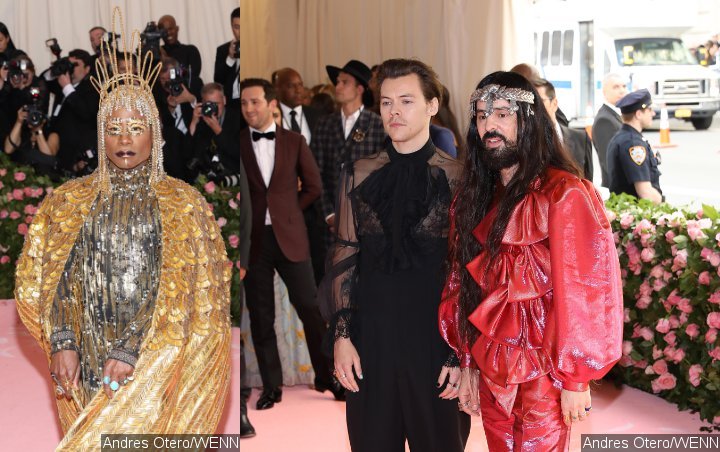 Other stars who steal attention on the pink carpet at the annual event, which is held at Metropolitan Museum of Art in New York, are Celine Dion and Janelle Monae among others.
AceShowbiz –
Met Gala always provides celebrities a chance to go all out with their fashion, be it male or female stars. Among those who stole at the annual event which took place at Metropolitan Museum of Art in New York on Monday, May 6 was Billy Porter, who not only turned heads with his choice of outfits, but also with the way he made an entrance to the intimate dinner.
Dressed as an Egyptian Sun God in a glittering bodysuit and robe by The Blonds, the "Pose" star was carried on the pink carpet by a group of shirtless men who also dressed in gold. After being gently lowered to the ground, he continued as he strode on the carpet and spread his golden wings. It was truly a spectacular sight to behold.
Also catching attention during the red carpet session of the event was Harry Styles, who made his Met Gala debut in a black ensemble which bared a glimpse of his body in the semi-sheer number which boasted black ruffling down the center. He paired his look with heeled leather boots and one single pearl earring.
Other stars who opted for show-stopping ensembles during the event included Celine Dion and Janelle Monae. The Canadian singing diva stepped out in an Oscar de la Renta metallic bodysuit with fringe-detailing and a plunging neckline. She completed it with an extravagant headpiece. The outfit, which weight over 22 pounds, took over 3,000 hours to make with 52 master embroiderers working on it.
Meanwhile, Janelle wore a multicolored gown which featured a face across the entirety of the front. She turned her left breast into the eye of the face, while the mouth was featured on her skirt. She topped off the look with four massive top hats for the bold look.
See below for more stars' jaw-dropping look at the 2019 Met Gala, which theme was "Camp: Notes on Fashion".
1. Fabulous Entrance
---
Billy Porter was carried by six shirtless men when he arrived at the 2019 Met Gala.
2. Sheer Is Not Only for Women
---
Harry Styles stunned in a sheer outfit that he paired with leather heels and one pearl earring.
3. Her Headpiece Steals Attention
---
Celine Dion stepped out in an Oscar de la Renta metallic bodysuit with fringe-detailing and a plunging neckline.
4. Ice Queen on Pink Carpet
---
Gigi Hadid wore a white catsuit with a matching headpiece and coat adorned with feathers.
5. Sizzles in Black
---
While her sister wowed in white, Bella Hadid went for the opposite as she looked stunning in a black dress that featured cut-outs.
6. Embracing Her Superhero Role
---
Gal Gadot channeled her inner superhero as she donned a lacy white mini dress that featured a matching cape.
7. Real-Life Barbie
---
Kacey Musgraves traded her dark locks for a blonde hair as she opted for an all-pink outfit.
8. Creating a Face With Her Dress
---
Janelle Monae wore a multicolored gown which featured a face across the entirety of the front.
9. Bejeweled Fantasy
---
Gwen Stefani sizzled in a white, leotard-styled outfit that was adorned with colorful jewels.
10. Simple Makeup, Stunning Outfit
---
Alicia Keys opted for minimalist makeup as she donned a glittering blue face which featured a hood to cover up her hair.
11. Green and Black
---
Miley Cyrus rocked a glittery green and black stripe Saint Laurent minidress that she teamed with sky-high black heels.
12. Going Red Hot
---
Halsey showed some skin in a sexy red dress that flaunted her toned abs.
13. Looking Ethereal
---
Florence Welch's turqouise dress looked like something that appeared in medieval series.
14. Ready for Fashion Battle
---
Saoirse Ronan wore a multi-colored Gucci dress that featured golden flames on her shoulder that formed a chest piece.